We crowdsourced our 2022 improv workshop roster!
In June, we solicited improv workshop proposals from any performer who wanted to teach one. Then, we asked performers to vote for their top five workshop choices. The voting results were the single most important factor in this year's workshop selection process. For more on our methodology, click here.
Workshop details
All workshops at this year's festival will last two hours each, will take place at the HCC Ybor Performing Arts Building, and will probably be capped at 16 students per workshop. On the low end, we'll need a minimum of 6 people in order for a workshop to run. (Both of these numbers are flexible depending on instructor preference.)

As per our commitment to keeping costs low for performers, all workshops will cost $25 each if you sign up before August 1. After August 1, the price will rise to $30 per workshop.

We will not be offering any online workshops this year, as our performer poll indicated relatively little interest; additional data also tells us that the general market for online workshops is sharply declining. We sincerely apologize to those of you who were interested in taking an online workshop through the festival.
Workshops
Friday, August 12
2:30 p.m. – 4:30 p.m.
Saturday, August 13
10:00 a.m. – 12:00 p.m.
12:30 p.m. – 2:30 p.m.
3:00 p.m. – 5:00 p.m.
Teamwork Makes the Scene Work
Claire Biddiscombe
Friday, August 12
2:30 p.m. – 4:30 p.m.
HCC Studio Theatre
1411 E. 11th St., Tampa, Fla.
Want to heighten your teamwork game? In this workshop, we'll identify what makes a good team player in improv, and revisit some foundational improv skills that help us to support everyone on stage. We'll also practice specific support moves that you can deploy as needed in scenes, or from the sidelines/backline.
Level: Beginner/intermediate (knowledge of basic scenework and editing expected).
Instructor Bio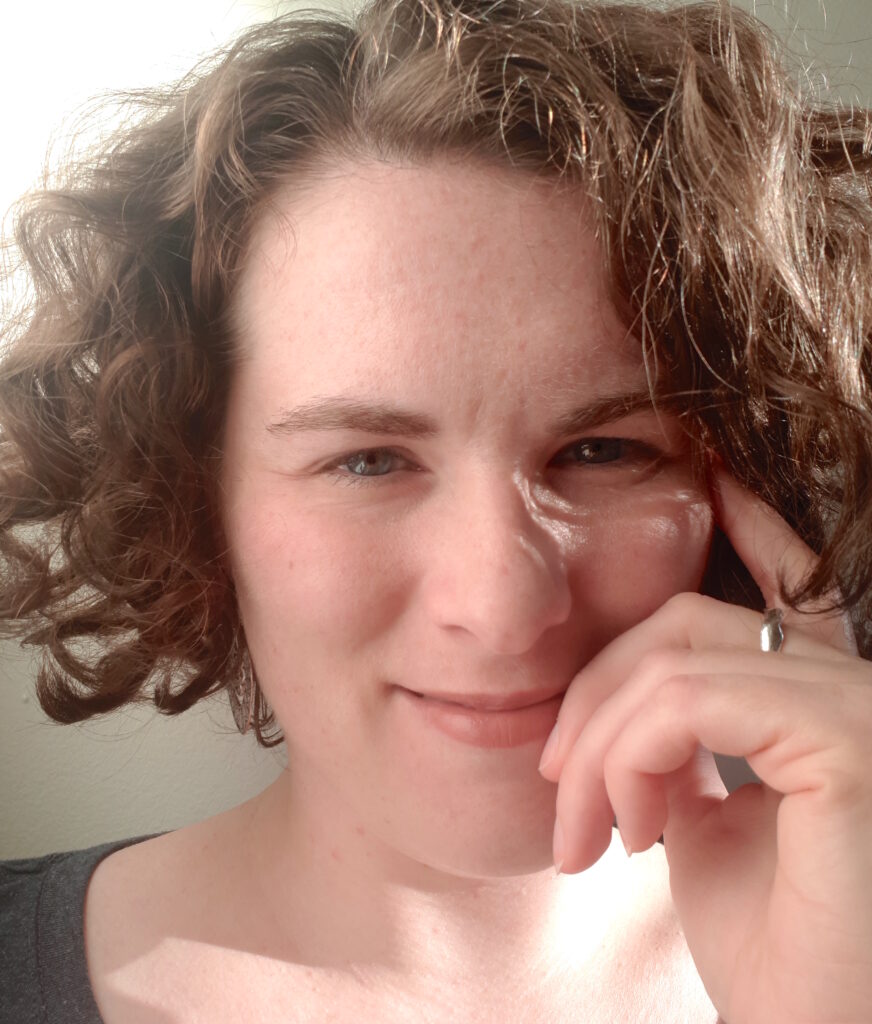 Claire Biddiscombe (she/her) is an improviser and educator based in Ottawa, Ontario, Canada. Her improv career began in 2003, and she's since trained and worked with a wide variety of schools and performers.
Claire performs with her duo NAFTA, and Queen City Comedy's Global Improv Project team Ridgeley. Past projects include LitProv (Ottawa Improv Festival 2019, MPROV 2019), and Burnett Brigade, winners of Queen City Comedy's inaugural Global 3-on-3 Tournament. She is a proud alumna of the Canadian Improv Games, the Kinkonauts, and Improv College, among others.
By day, Claire is a high school teacher of various STEM subjects. She also dabbles in storytelling.
Scene Brain, Game Brain
Joe Bill
Saturday, August 13
3:00 p.m. – 5:00 p.m.
HCC Studio Theatre
1411 E. 11th St., Tampa, Fla.
***THIS WORKSHOP IS SOLD OUT***
This will be a workshop driven by you doing lots of scenes and me introducing you to the idea that our brains can (and often do) work differently when we're improvising scenes and when we're improvising in game. Part acting class, part neuroscience-driven exercise progression of scenes and scenarios. This workshop will exercise the basic building blocks of performance improvisation and shed some light on ways that your brain can work optimally in long form or narrative improvisation.
Instructor Bio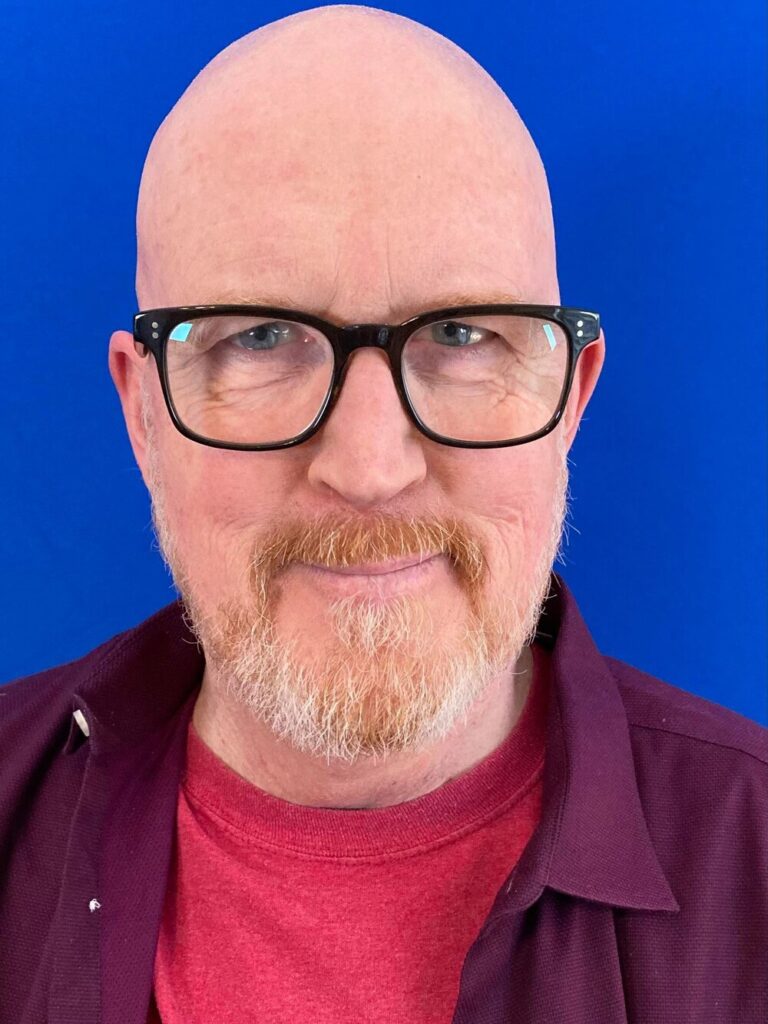 Joe Bill is widely regarded as one of the best teachers of scenic and comedic improvisation in America today. He is one of the founding members of Annoyance Theater Chicago where, for 12 years, he performed in and/or directed more than 60 different shows. He is the director of corporate training at iO Chicago and is a guest artist in residence at The Second City Training Center where he teaches intensives in duo improvisation and improvisation for actors. Joe first learned improvisation in 1977, and studied and worked with Del Close from 1985 through the mid 90's.
Joe is ½ of the original improvised monoscene (we used to call it "Real Time"), BASSPROV with Mark Sutton, (Annoyance Theater co-founding member and artistic director for training and development at The Second City). They have been heralded by the New York Times: "BASSPROV refreshingly has the feel of a quiet character study…jokes emerge organically, using wordplay, character quirks and quicksilver wit."
Joe tours all over the world, teaching and headlining with extremely talented duo partners like Jill Bernard (Huge Improv Theater – Mpls.) in their hit show SCRAM!; with international improv legend Patti Stiles (AD – Impro Melbourne) in their groundbreaking show Our Play; Stacey Hallal (Curious Comedy Theater – Portland, Ore.) in Stacey & Joe and We Slept Together; Heather Urquhart (improviser/director The Maydays & Showstopper The Improvised Musical – London/U.K.) in their magical improvised Musical Blues Hammer (with the stupendous Joe Samuel on improvised orchestra); with Lee White (CRUMBS – Winnipeg, Berlin) in their heroic duo show PARADIGM; and with David Razowsky (Host A.D.D. Comedy Podcast) in Razowsky & Bill. He's played with many other duo partners, in the U.S. and abroad, in many festival ensemble shows, and in every improvised format and/or style imaginable. For the last 6 years he has also been teaching and performing in French, in many cities in France, Belgium, & Luxembourg. He is living his dream!
He has played as a guest in Play Unscripted with ImproTheatre L.A., Grand Theft Impro at Impro Melbourne (Australia), The Scene at The PIT in New York City and UCB in L.A., with Let's Have A Ball and ASSSSCAT 3000 at UCB Theater in New York & L.A. and with Kornfeld & Andrews at Magnet Theater in New York City.
He has performed, directed, taught and served as an artistic adviser for a number of improvisation/comedy theaters & festivals all over North America, Europe, Australia, and South Africa, and at every major improv festival in the United States.
Being Comfortable Being Uncomfortable
David Hepburn and Alex Taylor
Saturday, August 13
12:30 p.m. – 2:30 p.m.
HCC Rehearsal Hall
1411 E. 11th St., Tampa, Fla.
Performing on stage can be terrifying. Performing with experienced improvisers on stage is intimidating. How do you get out of your head and just do what you were taught? Commit to a character, object work, have a want/focus, and be intrigued by discovery. This workshop will focus on doing what you're afraid to do onstage. We will focus on opening your mind to do what you believe you cannot do. Participants will improve their initiations, focus on characters, and embrace their musical spirit.
Instructor Bios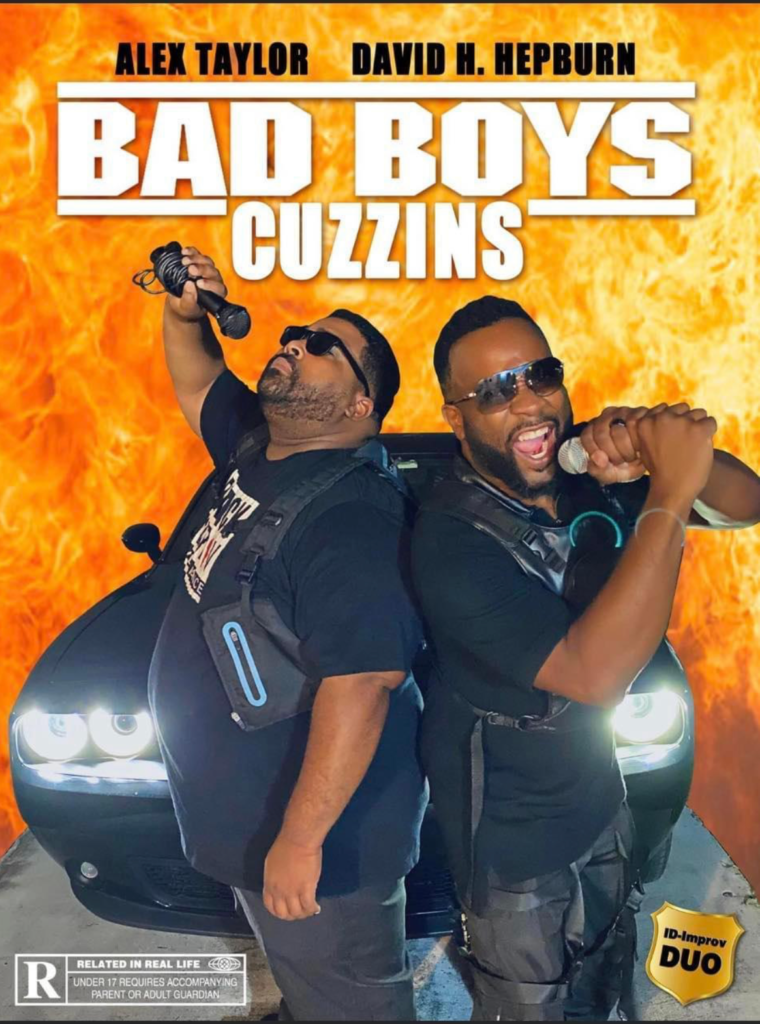 David Hepburn and Alex Taylor perform as the duo Cuzzins. They are members of Black Improv Alliance, as well as cast members at Just the Funny Theater in Miami, Fla. Alex and David are cousins who reconnected through improv. They have performed at numerous festivals in Florida. They are excited to bring their brand of absurdity, high energy, and collaboration to the festival workshops.
The Head and the Heart: How to Frame a Musical Improv Number
Ralph Krumins
Saturday, August 13
12:30 p.m. – 2:30 p.m.
HCC Studio Theatre
1411 E. 11th St., Tampa, Fla.
An exploration of musical improv song structure using the motivation of the heart vs. the head to create deeper connections in scenework. With an emphasis on creating choruses grounded in emotion and verses laced with intelligence, this workshop will provide musical warm ups, exercises, and show ready skills for your toolbox. All levels welcome, no previous music experience necessary.
Instructor Bio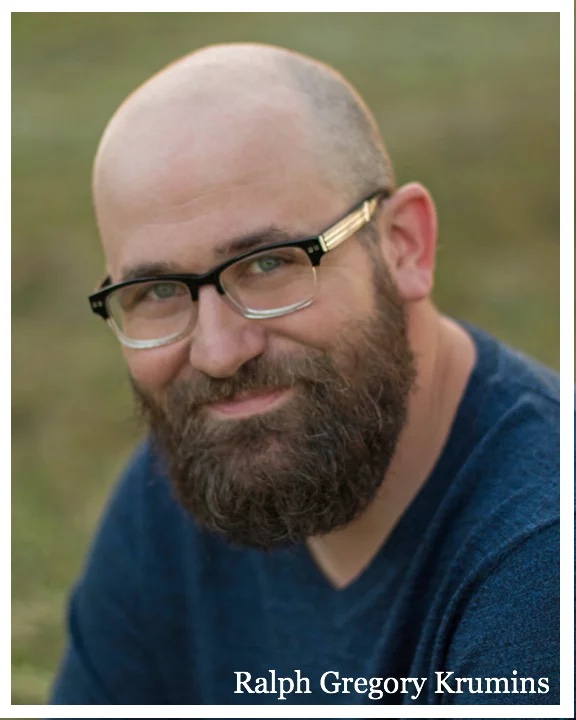 Ralph Krumins has been an improviser for almost 20 years, with the latter half of them playing with long-form musical improv. He has been/is the music director for national and international musical troupes including Four First Names, Playback UCF, SAK Comedy Lab, Murphy Bed Surprise, and more.
SURPRISE YOURSELF! A Solo Improv Workshop
LD Madera
Saturday, August 13
3:00 p.m. – 5:00 p.m.
HCC Rehearsal Hall
1411 E. 11th St., Tampa, Fla.
SURPRISE YOURSELF! is a workshop that will challenge you like never before! You'll explore various feelings and emotions, some you may never even knew you had. In this workshop, you will learn about how to express yourself emotionally within a solo improv show, as well as learn how to create multiple characters on their own within a scene. You will be encouraged to make decisions based entirely on what's in your heart, and you will experience what it's like to let yourself go and discover what comes out of you. You will explore how far you can go and how you can create moments you'd never thought you would ever do. The goal is simple… to SURPRISE YOURSELF!
Instructor Bio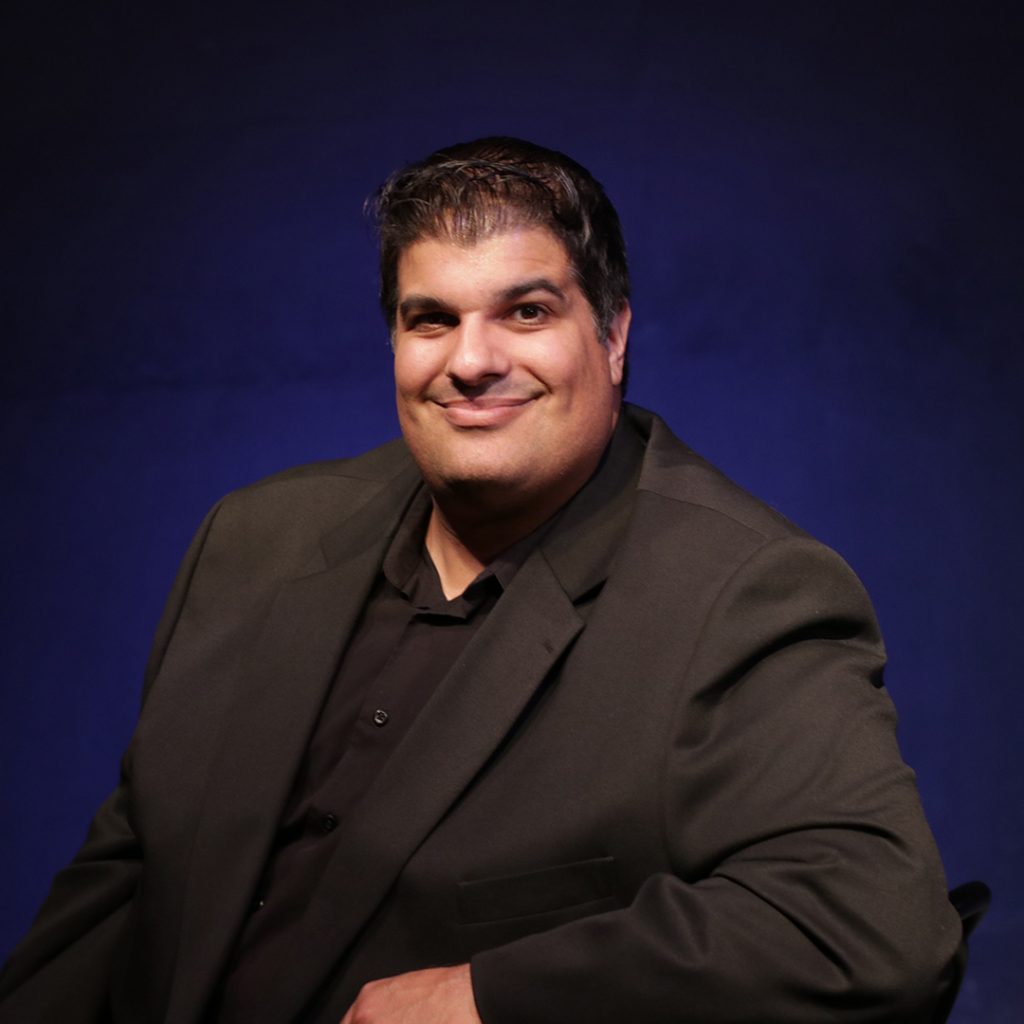 LD Madera is an improv actor originally from Miami, Florida. Since 2005, LD has been performing and growing in the craft of improv with Just The Funny: Miami's Home for Improv and Sketch Comedy. Over the years, LD has grown and developed his craft by performing with one simple philosophy: Feel Honestly. During his time at Just The Funny, LD has also had the opportunity to learn and train with some of improv's greatest performers, including David Razowsky, Joe Bill, Mark Sutton, Stacey Smith, and Stacey Hallal. LD continues to be active at Just The Funny Theater, and also performs at various venues and locations in Florida.
LD created Together/By Myself in 2019, which was inspired by the idea of creating multiple characters that could show various emotions and points of view. Since 2019, Together/By Myself has been performed on the road at various theaters and festivals around the country. LD also continues to teach various workshops sharing his love of improv with everyone!
The JOY of Improv
Liz Marcucci
Saturday, August 13
10:00 a.m. – 12:00 p.m.
HCC Rehearsal Hall
1411 E. 11th St., Tampa, Fla.
If you aren't having fun, you aren't doing it right. Joy is at the heart of this art. When you love the choices that you and your scene partner make, the audience will go along for the ride. In this workshop, we'll bring the fun back to your play. In the JOY of improv we focus on three things: JUMPING without judgment and predetermined plot moves. This workshop helps you build muscle by practicing stepping out with nothing, and discovering what can be built when the only thing we bring to the table is a willingness to remain OPEN. When we remain open to all that is possible, YOU will find the brilliance in yourself and your scene partners. Showing up to the scene playing characters that make sense to you is the last piece in the JOY puzzle. Let's play people we like, admire and want to be. Let YOUR JOY permeate your scenework. This workshop is open to all ability levels and prioritizes two-person scene work. Bring yourself and be ready to celebrate yourself and the other participants.
Instructor Bio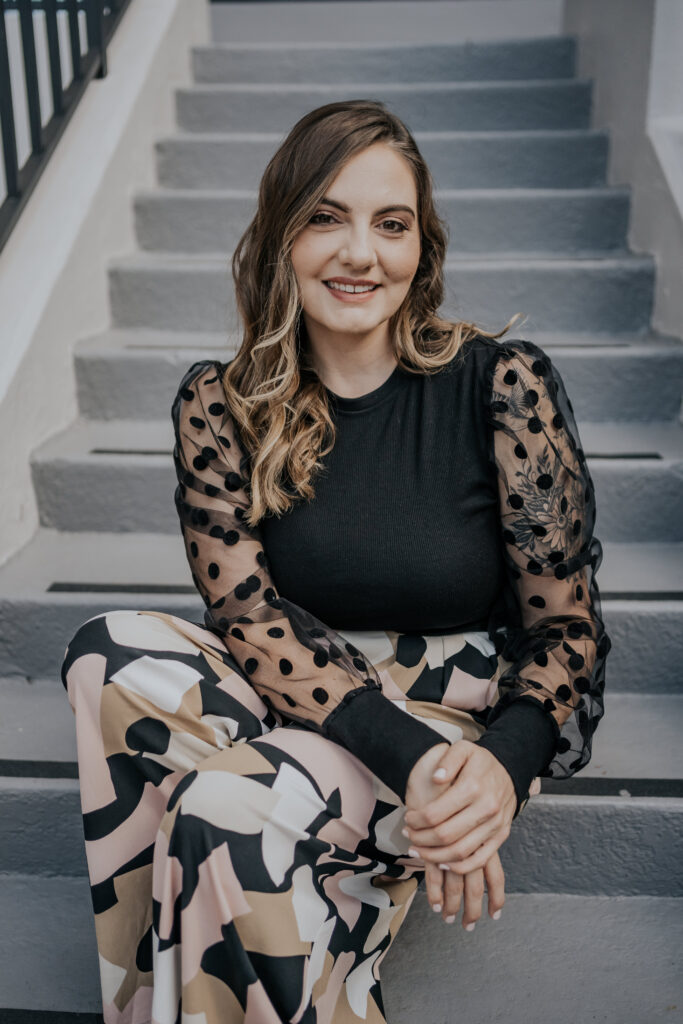 When Liz grew up she never thought people would pay her to play make believe ($5 a show counts, right?) and she can't believe how this art form has transformed her life and her belief in the importance of presence and connection in every interaction (on and off stage). She found the art of improvisation during a challenging time with her health, but she credits it to helping her uncover her truest self. She has studied improv all around the country, finishing multiple training and education programs and intensives from the Improv Retreat, to the HUGE Summer Intensive, and musical improv intensives. She is a graduate of iO Chicago, The Annoyance, and the Second City Conservatory. Liz is also the winner of Denver's Next Improv Star Season 8. Liz currently lives in St Petersburg, Fla., and she can't wait to know you.
Playing With Patience
Heather Marie Vitale
Saturday, August 13
10:00 a.m. – 12:00 p.m.
HCC Studio Theatre
1411 E. 11th St., Tampa, Fla.
While on stage, your brain and body are alive and full of energy. As you play, your energy builds and needs somewhere to go. It can be easy to let that energy take over your mind, your words, or your feet and lose sight of the scene and the world you and your scene partner are creating together. In this workshop, we will work on focusing that energy on slowing down, connecting with our environment, emotions, and your scene partner to create beautiful, organic scenework.

Experience level: 2-3 years recommended.
Instructor Bio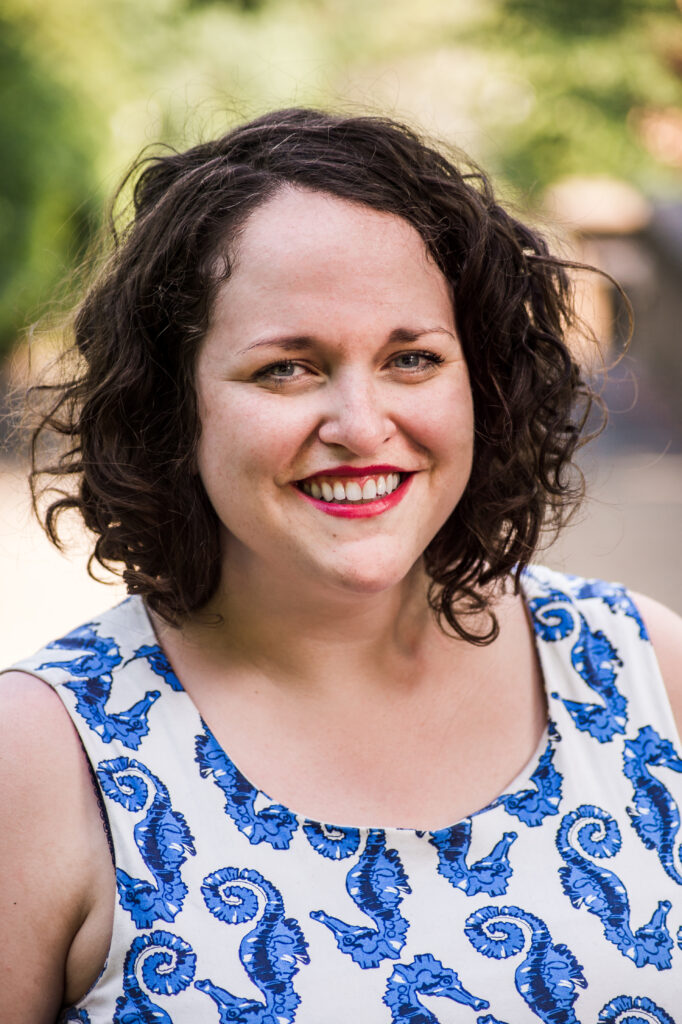 Heather Marie Vitale (she/they) is an improviser/actor/sketch comedian based in Washington, D.C. Heather Marie is a featured performer and faculty member at the Washington Improv Theater (WIT), and has studied at WIT, the Second City Conservatory, Magnet Theater, Theater Momentum, World's Greatest Improv School (WGIS), and Dojo Comedy, among others. She has performed in shows and festivals all around the country, including in New York, Chicago, Baltimore, Philadelphia, and Oklahoma City. She is also an original company member of Dilly, WGIS' improvised play team. Heather Marie is also a screenwriter, playwright, essayist, and satire writer. You can regularly find her work published on the Cherry Swamp.
Methodology
From 2018 through 2020, festival workshops were programmed on an ad hoc basis, with the festival organizers choosing the instructors, and, in some cases, the workshop topics. We did it this way for a few reasons — for one thing, it felt like the easiest way to curate a diverse, high-quality workshop roster each year — but we were always aware that this process was neither particularly transparent nor egalitarian. In 2021, we decided try to fix this problem by putting the workshop-programming process in the hands of our performers.
There are ways in which this process worked better than the way we used to choose workshops; there are other ways in which it fell short of the old process. One major way it fell short was by taking any curatorial powers out of the producers' hands. We think it's important that the producers are able to have a voice in the workshops programmed at the festival, if only so that we can ensure that the workshops represent a diverse array of philosophies and perspectives.
In 2022, we refined the process to make performer voting the primary, but not the sole, determinant of this year's workshop roster. We opened voting for a nine-day span and allowed all performers to vote once. We received 41 performer votes; for reference, there are 127 performers at this year's festival, which means that a lower percentage of performers voted on workshops this year than voted last year. Over 80 percent of voters said they would not take an online workshop if offered.
The key difference between 2021 and 2022 was that the two festival producers also voted — but each of their votes was worth 4 performer votes. In the end, this meant that the producers' votes accounted for roughly 20 percent of the total votes received.
To determine this year's roster, we then ran a variety of scenarios to determine the clear winners. First, we looked at the total number of votes received. Then, we looked at the total number of points received, where a first-choice workshop vote received 5 points, a second-choice vote received 4 points, and so on. Then, we looked at the total number of first, second, and third place votes that each workshop received. We then averaged the results from all three categories to come up with our workshop roster.
We will continue to refine this process in future years.