So the festival is live and in person this year, huh?
That's the goal!
Please explain your thought processes here.
First of all, our top priority is the safety and well-being of our performers. If it feels like it isn't possible to hold the festival live and in person this year, we just won't do it. That said, as of this writing, we are provisionally planning to host a live, in-person event in September 2021. We have compiled an extensive COVID-19 FAQ that explains our thinking and lists some of the COVID-abatement measures we're planning to take this year. You can read it here.
Will there be online components to this year's festival?
Yes! The festival will host a night's worth of online-only performances on either Wednesday, September 8 or Sunday, September 12, which will be streamed live to our Twitch channel, twitch.tv/countdownimprov. These will likely be the only nights that we'll be featuring online-only performances this year. We hope to stream the rest of the festival live to Twitch, too, but that'll be contingent on the technical capacities of our venue. We'll also have a few online-only workshops this year, in addition to in-person offerings. While we're looking forward to getting back to live performances and workshops this year, we do have contingency plans in place to pivot the festival to a wholly online event if circumstances require us to do so.
Why should I apply to the Countdown Improv Festival?
Because it's the best damn improv festival in the country. Be more specific, you say? Sure! The Countdown Improv Festival is a truly performer-focused festival, and we are intent on ensuring that our performers have a good show and a great time. Our goal is to provide the very best performer experience on the improv festival circuit. We try very hard to meet that goal.
Founders Justin Peters and Kelly Buttermore are veteran touring improvisers who've attended dozens of festivals; in creating the Countdown Improv Festival, they vowed to make it the sort of festival that they themselves would want to attend. We are committed to diversity, equality, and inclusion, and ensuring that our festival represents and reflects the community it serves.
All performers get free (incredibly soft and stylish) T-shirts, free standby admission to shows, carefully curated swag bags with plenty of local flavor, and free beer, wine, soft drinks, and (good!) food in the green rooms. The festival is covered in all the major local media outlets, and the shows routinely sell out. There are parties every night, and no one feels left out. Kelly and Justin will pick you up from the airport, greet you by name, introduce your show personally, and give you everything you need to succeed while at the festival. We do not have headliners and we do not stratify our participants; we welcome and value every performer on the bill. From the moment you arrive in Tampa to the moment you leave, you will feel appreciated, encouraged, and empowered to do your best work.
"We were delighted by every aspect of the Countdown Improv Festival. Kelly & Justin made us feel super welcome, our fellow improvisers were warm and inclusive, and the workshop we took was educational and entertaining (and a great price!). We're so glad to be part of a thoughtfully organized weekend, and hope to be back for future Countdowns!" –Jeremy & Michelle Lesifko-Bremer, Gainesville
Who produces this festival?
The founders and executive producers of the Countdown Improv Festival are the New York-based comedians Kelly Buttermore and Justin Peters, who perform together as the improv duo From Justin to Kelly, and who run the Brooklyn-based Countdown Theater, a pop-up comedy space devoted to celebrating and creating memorable, ephemeral theatrical experiences. Also on the production team for 2021 are Marisa Cutaia and Anthony Francis, who run Improv U and the Palm Beach Improv Festival in Delray Beach, Florida.
If you're based in New York, why produce a festival in Tampa?
It's Florida! It's sunny!
Where is the festival taking place?
The festival is located in the Ybor City neighborhood of Tampa, which is one of the most interesting neighborhoods in the United States. The historical center of Cuban emigré culture in the Tampa Bay region, Ybor City is home to dozens of coffee shops, cigar factories, bars, restaurants, and stray roosters.
Local highlights include the century-old Columbia Restaurant, the world-famous Cuban bread at La Segunda Bakery, the Cuban sandwiches at La Tropicana and the West Tampa Sandwich Shop, the craft beer and Cajun food at Zydeco Brew Werks, the thick Cuban coffee at the redolent King Corona Cigars Bar and Cafe, the skate-punk aesthetic of local cafe The Bricks, and so much more. There's also a Scientology center nearby, if you're into that sort of thing.
All shows will take place at the HCC Ybor Performing Arts Building, on the campus of the Ybor City branch of Hillsborough Community College, in the Ybor City neighborhood of Tampa, Florida. The HCC Ybor Mainstage Theatre is a professional-caliber auditorium that seats approximately 250 people. There are multiple dressing rooms and green rooms. The Ybor Performing Arts Building is located on the corner of E. Palm Ave. and N. 15th St.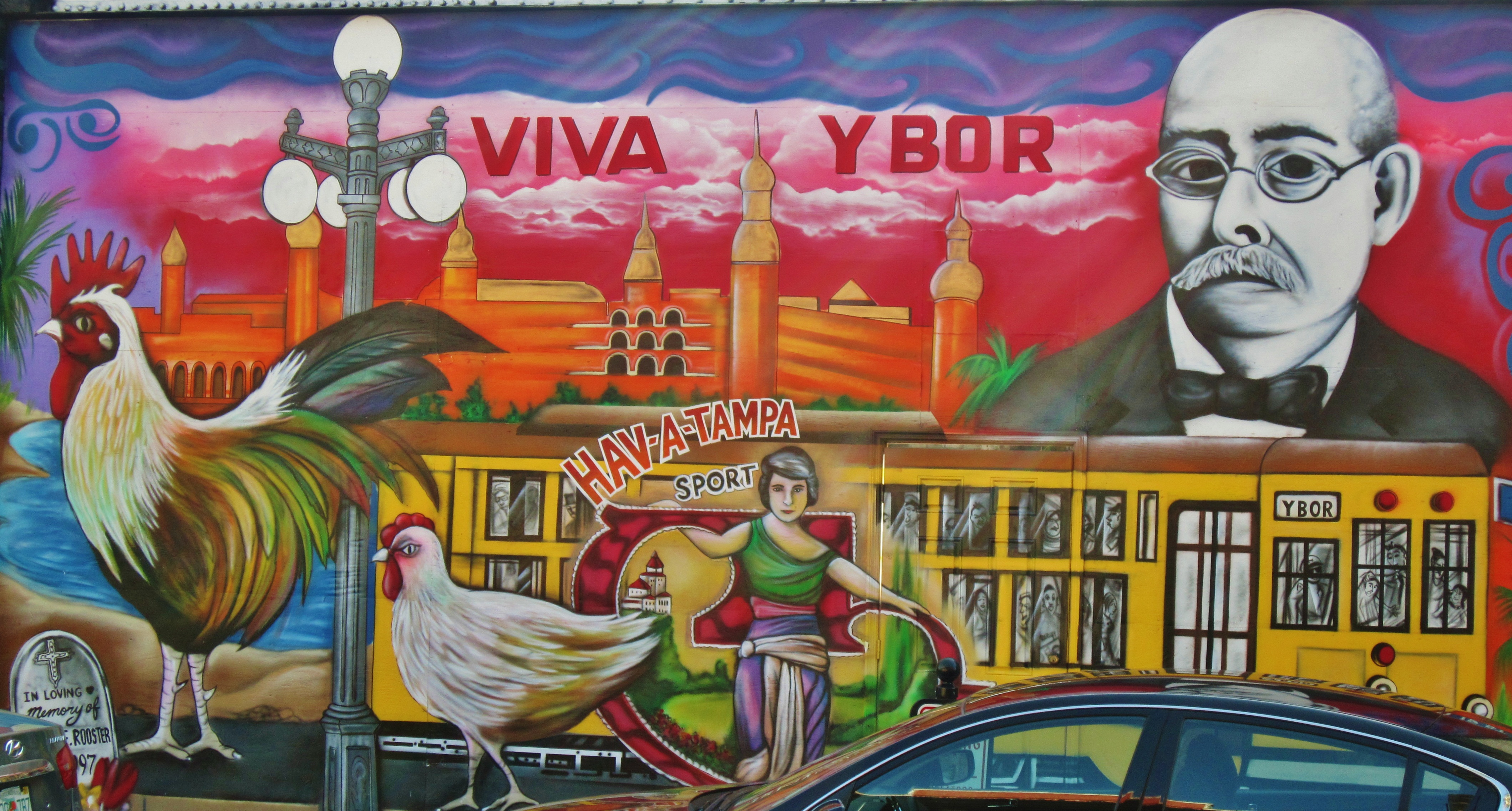 When is the festival?
September 8-12, 2021.
Will there be improv workshops open to the public?
Almost certainly.
Do Countdown Improv Festival performers have to pay for bottled water?
Emphatically not.