Venue
The festival takes place at the HCC Ybor Performing Arts Building, on the campus of the Ybor City branch of Hillsborough Community College, in the Ybor City neighborhood of Tampa, Florida. It is located on the corner of E. Palm Ave. and N. 15th St. If you plan to use GPS to locate the building, the best address to use is 1411 E. 11th Avenue.
Parking
Paid parking is available after 6:30 p.m. on Thursday, after 5:00 p.m. on Friday, and all day and night Saturday in the HCC lots directly to the north and the west of the Performing Arts Building.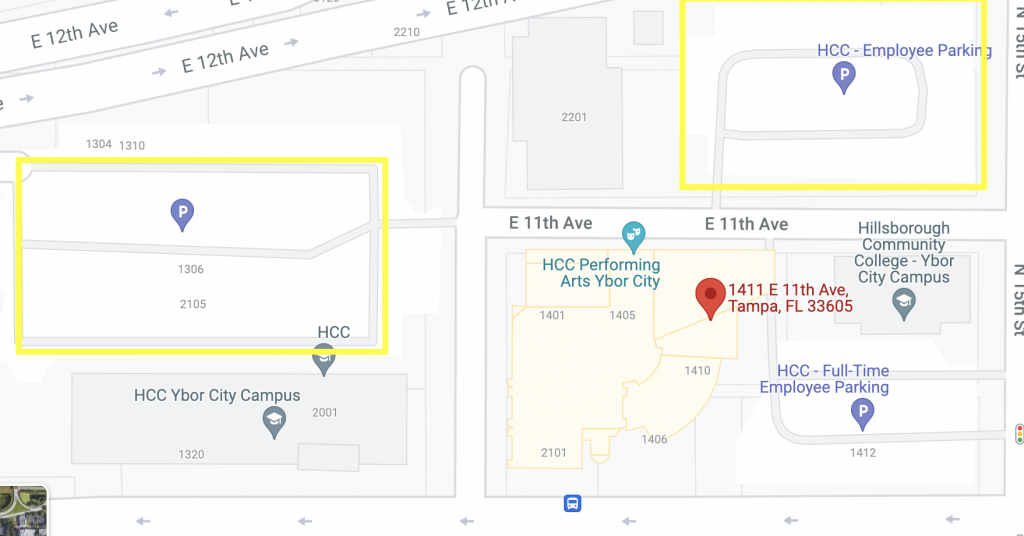 A limited amount of free street parking is also available on E. 11th Avenue and N. 14th Street. Finally, you can always find parking at the Fernando Noriega Jr. Garage on E. Palm Avenue between N. 12th and N. 13th Streets, a two-block walk from the venue.
Flights
The closest airport is the Tampa International Airport, though the airports in St. Petersburg, Sarasota, and Orlando are also within driving distance. A bunch of discount carriers, such as Allegiant and Avelo, fly into the St. Petersburg airport.
Car
You shouldn't really need a car during your stay at the festival, as all festival events are within walking distance of the venue and the hotel. If you would like a ride in from the airport, please apprise us of your arrival dates and times and we would be happy to coordinate a pickup. If you plan to rent a car anyway, look, we get it, we're the same way. Park it on E. 11th St. near the venue and you won't have to pay a dime.
Lodging
The official festival hotel is the Hotel Haya, located at 1412 E. 7th Ave. in Ybor City, a three-block walk from the venue. Though Airbnbs and other lodging options are also available, we strongly urge you to book at the festival hotel if it is within your budget. In previous years, visiting performers have generally found the Airbnbs they've booked to be farther away and somewhat seedier than they expected; the many budget motels in the general Ybor City vicinity, meanwhile, are inconsistent in terms of quality and cleanliness. We don't get any kickbacks if you stay at the festival hotel, we just think you'll have a better time if you do. Up to you, though!