Separated by 70 miles, Jeff & Kat don't get to play together as much as they'd like, but when they do, it's just easy. Making magic from mundane situations, the result is often surprising, sometimes moving, wonderfully weird and always delightful.
Kat Kenny, Jeff Quintana
West Palm Beach, Fla. / Miami, Fla.
Schedule
understated will perform in the 9:50 p.m. block at the HCC Mainstage Theatre on Saturday, September 11.
Previous Countdown Improv Festival appearances
2020, 2019, 2018
Images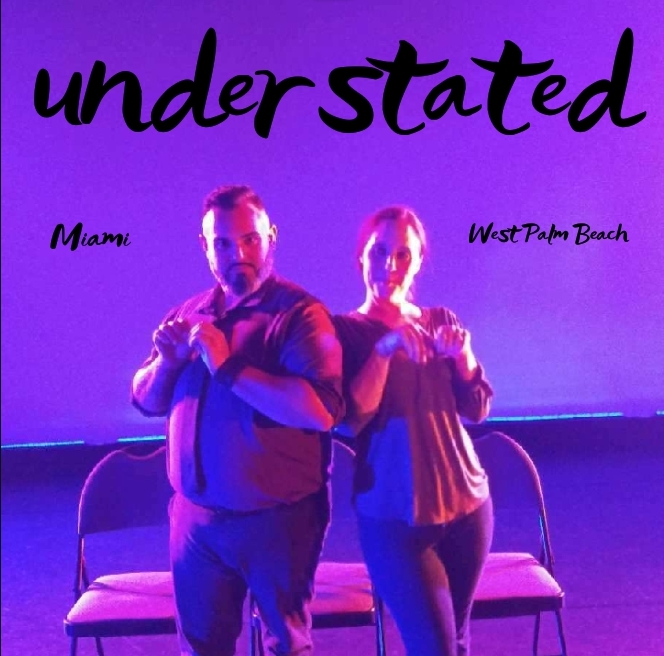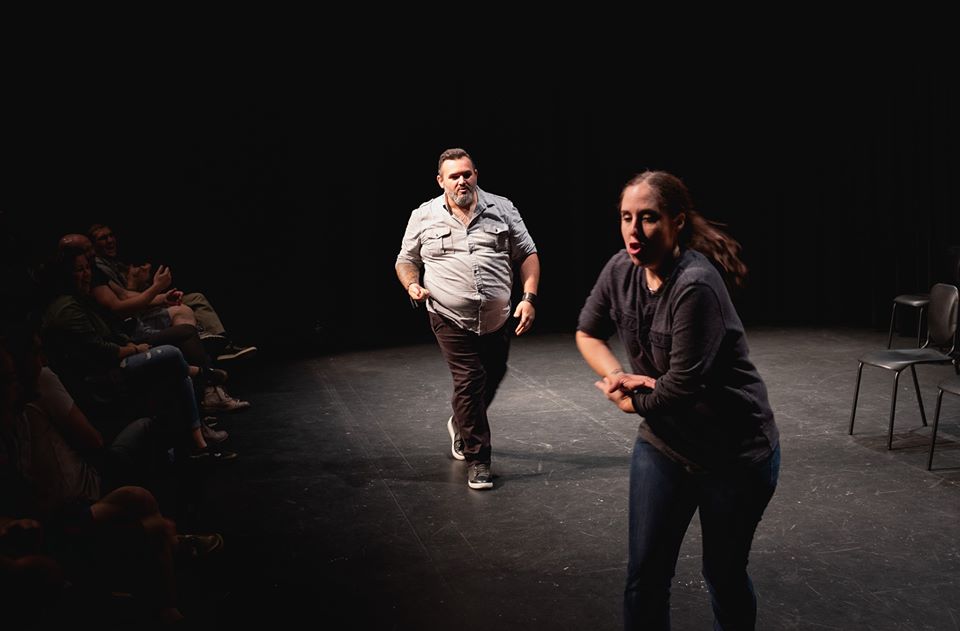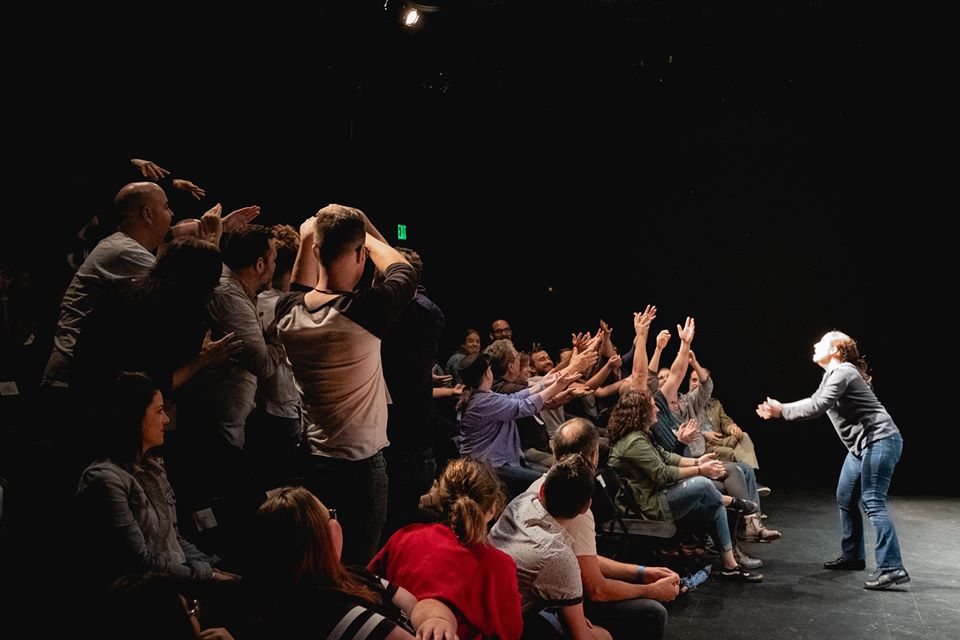 Interview with Kat Kenny (from 2018)
Tell us a little bit about your background, and how you discovered and fell in love with improv.
My background is in theatre. I've been a theatre rat (is that a term? Do people say "theatre rat?" I'm unsure. They should.) since I was a teenager and got my college degree in theatre with an emphasis on acting from the University of Utah's Actor Training program. I dabbled in short form while in college (People DO say dabbled. Of this I am sure.) but didn't really get addicted to it until the last year I lived in New York. I attended a Harold Night at the UCB, fell in love with it and immediately started the process of maxing out my credit card in an attempt to quickly go through all of the levels at UCB and as many coaching sessions as I could before I moved back to Florida. (Guys, I DID it! Discover Card was very pleased.) When I got back to Florida, the scene wasn't very big. But I was lucky enough to find Mod 27 Improv and get involved with them. After about another year of taking workshops, I started teaching and created a program at Actor's Rep theatre in West Palm Beach. We now have monthly shows at the theatre and seven house teams. It makes me very happy. I smile a lot.
We're excited to have a bunch of performers joining us this year from Delray Beach, West Palm Beach, and Miami. What, in your view, is something that's unique about the improv scene in that part of Florida?
The thing that stands out most to me is how wonderfully overlapping our community is. I play with three different improv troupes in West Palm Beach & Delray, all "belonging" to three different improv schools/companies, and frequently guest with a school in Boca. What's neat is that this isn't unusual. We share students, cross-promote each other's classes, and play on teams with multiple improv companies. I feel like south Florida, particularly Palm Beach County, is finally in a place where no students or performers "belong" to any one school/company. Because they don't. And because that's antithetical to what we all do.
You'll be performing with Jeff Quintana [as the duo understated] at this year's festival. Tell us a bit about how that duo came to be, and what you enjoy most about playing with Jeff.
Jeff and I met a few years ago and we've only played together on a few different occasions. He'd come guest with Actor's Rep in WPB and I'd go play with him as a guest in Miami. I had Jeff come do a duo set with me several months ago that was just …easy. And delightful. And fun. Shortly after that set, I saw that Countdown Improv Fest was accepting submissions. So I said "Hey, let's make this thing." This fest will be our second time performing together as a duo, and the first time officially as understated. You helped bring us together! My favorite thing about playing with Jeff is that he doesn't have an agenda. He just follows what's happening and is ruthlessly playful.
In your workshop, you'll be teaching students to "walk the walk" — in other words, working to eliminate the all-too-common gut reaction to judge a choice/move in a scene, and instead getting improvisers to view every choice and move as a potential opportunity. What's a favorite example of yours (either in a show you saw, or one you did) of this?
Oooh, good question. I'm really fortunate to be able to say that I've experienced this a lot. I play with some amazing improvisers and teams who each have their own strengths and I'd have to say that the people I play with on Friends with Benefits are really good at this. There is a willingness to just jump in blind and build off of whatever is happening — whether it's working or not — and to fully and to playfully embrace it. They'll get down in the mud with you.
For me, I think the time I've been able to fully employ this is in my lotto show. Improvising with someone who's never done it before is built on the foundation of "I'll follow you wherever you choose to go" instead of "Follow me" or "let me make it better." I did a lotto show once with a friend of mine where the person we picked from the audience was a 12 year old girl. You guys. We just followed her and she took us on the most fantastic ride. We were established as school teachers who were then CIA agents who were being hunted by ninjas. We were ninja waiters who served only bread in a sushi restaurant and young children who loved listening to our grandparents' boring stories about the post office. We just followed her and didn't "correct" her and we (and the audience) had the absolute best time. When we're able to practice what we preach, it's contagious. People start to play the same way because it gives others permission. It will spread throughout a group and make the whole team stronger. The Walk the Walk workshop is my favorite workshop to teach because it has the possibility to change how individuals look at what we do and when one person on a team starts playing that way, it has a trickle down effect that = magic.
Last time we saw each other, we were all teaching aboard the Improv U Improv Cruise, which was a blast, but featured such rough seas on the last day they wouldn't let anyone go outside. What advice would you give for people improvising while seasick?
Lie down a lot. And wear sea sickness pressure point bands. And tell everyone you're seasick so that they feel really bad for you and think you're amazing for being super heroic and for creating amazing art even though you're just lying on the floor.