Playtime with Patrick and Preston show their vision of a crazy world.
Patrick Newson, Preston O'ffill, Bob Zeyen
Chicago, Ill.
Schedule
Playtime with Patrick and Preston will perform in the 9:00 p.m. block at the HCC Studio Theatre on Saturday, August 12.
Previous Countdown Improv Festival appearances
2022, 2021, 2020, 2019
Images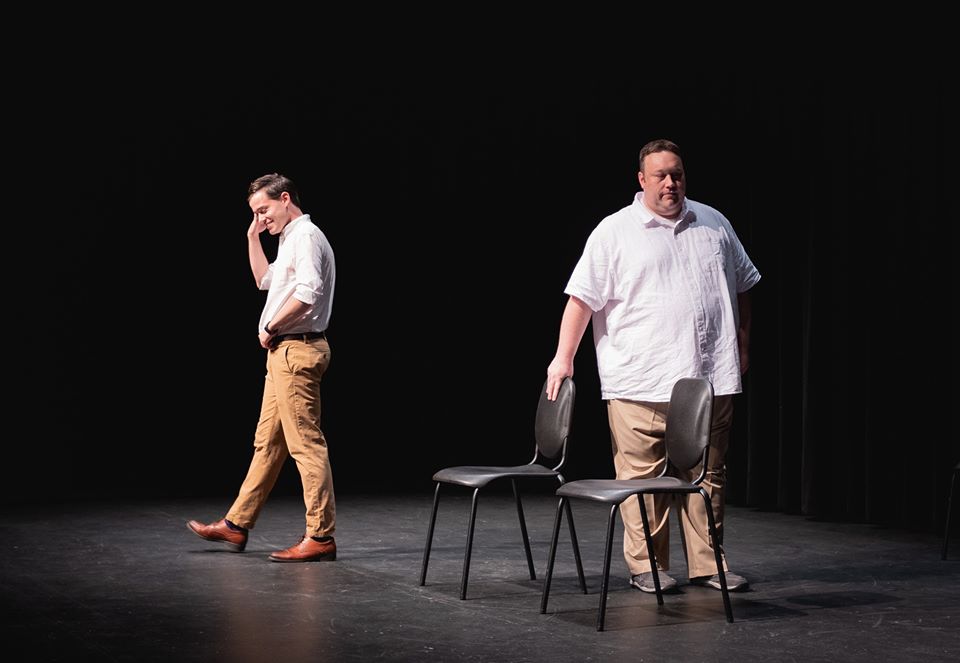 Interview (from 2019)
We're so happy to have Playtime with Patrick and Preston at this year's festival! Your format is so patient and confident. Tell us about it, and how it has developed over the time that the two of you have been performing together.
We think it's important to ease into whatever world we are creating. We like to follow the most interesting person in the scene. So it's super important we choose the right person. Taking our time ensures that we'll be able to tell the best story possible.
When we were watching your tape, we turned to each other early on and said something like "This is some classic Chicago improv right here." Which is a good thing! What defines the Chicago style of improv to you? And how does your show fit within that tradition?
We are one of many Chicago improv duos/ groups. So it's important that we stand out. In Chicago respect for the technique is what sets you apart from the rest of the teams out there. Chicago improv really hit its stride in the 90's. So Chicago is lucky to still have the pioneers hanging around teaching, and directing. They appreciate when you pay respect to the roots, while being innovative.
We love a good duo origin story: How did the two of you meet and start performing together?
Preston and I met while working on a sketch show called Monday Night Live. Michael McCarthy is a former SNL writer, creator of the writing program at Second City and IO Chicago. He's created a program that when you complete the program your material gets put on stage. We have three days to put on a sketch show. In recent years Preston and I have gone from acting, to directing, to current producers. We wouldn't be anywhere without Michael's guidance.
What's a favorite memory from a duo show — either one you've seen or one you've done together (or both)?
Preston and I played a 800-seat old theater in Kenosha, Wisconsin. It was for a film fundraiser in April. We were expecting a large crowd until it decided to snow almost a foot… in April. So we played a gigantic theater for 40 people and had possibly one of the best shows we ever had.
Both of you come from theater backgrounds. How have those backgrounds informed your experience with improv, and vice versa?
Preston is a gifted musical-theater actor, I am a walking encyclopedia of theater and film. I think between the two of us we're able to take those genres and arch types to make a real world with real experiences bigger and more ridiculous.
The two of you perform all over Chicago, but you also do shows at venues in the suburbs. How are those show experiences and audiences different? What's unique and fun about each?
The suburban audience has a potential for all types of people. In the city you'll find many liberal artistic individuals. In the suburbs you have zero clue what you are going to get. You can make a Trump joke. Just be ready for it to go sideways.
And finally, what's the best movie that's ever been set in Chicago, and why is it The Fugitive?
The Fugitive showcases Chicago for what it is. The best possible place to evade the police if your wife has been killed by a one-armed man, and nobody believes you. I mean Ferris Bueller showed us how to have a day off. But if you're in real trouble you aren't going to a museum.