From a single suggestion, Second City alum Joe Liss and Bay Area veteran improv theatre owner Marcus Sams perform action-packed improv that keeps audiences consistently laughing and wanting more.

Joe Liss, Marcus Sams
San Francisco, Calif.
Schedule
Liss n' Sams will perform in the 10:30 PM block on Friday, August 14.
Images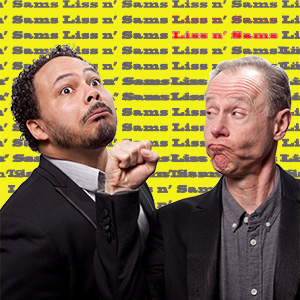 Troupe bio
Joe and Marcus first performed together in a Leela show and they instantly felt the improv karma that transformed into Liss n' Sams! Since then they have improvised all over the country. Joe is a Second City alumnus and has appeared on TV in Hidden America with Jonah Ray, Curb Your Enthusiasm, and Strangers With Candy. Film roles include God Bless America, Wayne's World II, Home Alone 2, and Major League. Among his writing credits are Third Rock From the Sun, SpongeBob Squarepants, and Drawn Together. Marcus is the artistic director of Moment Improv Theatre and the San Francisco Improv Festival, the co-founder of the Bay Area Film Mixer and a working actor. He has been in the improv game since 2001, has performed in 75+ national improv festival shows, and was a member of the critically-acclaimed group, Oui Be Negroes.
"Liss n' Sams made me laugh… and I don't laugh at improv anymore." –Ron West (Whose Line Is it Anyway)