Lamp Money is a duo team that will perform a "detour" set, repeating a short scene over and over and exploring the different paths that we find.
Laura Gregor, Michael Thomas
Madison, Wis.
Schedule:
Lamp Money will perform on Saturday, August 17 at the HCC Studio Theatre in the 7:25 p.m. block.
***CLICK HERE TO PURCHASE FESTIVAL TICKETS FOR SATURDAY NIGHT.***
Images: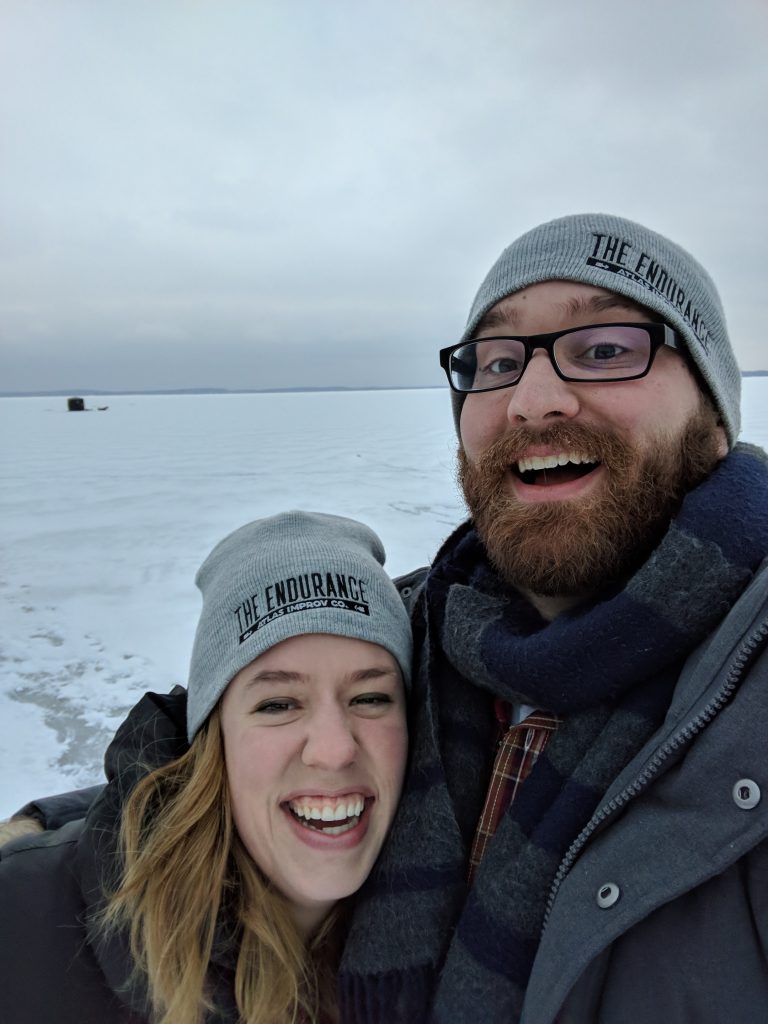 Interview:
We're so glad you're both coming to the festival this year! The Detours format is so much fun, and it is so rarely performed. Tell us about Detours and what you both like about performing it.
Michael Thomas: It came about in a fun way for us. We were initially inspired after seeing a performance of the play Constellations that followed two characters' romantic path, which played with time and "alternate realities." As is often the case, we tried to find a way to play with that in an improv format, replaying scenes and exploring new ideas. We then saw Detours played when we were in Omaha and found a way that others had played it and found it a fun way to explore characters and their relationships and actually be able to "redo" a scene if we want to try something new.
Laura Gregor: We're so happy to be coming to Countdown this year! I particularly enjoy the repetitive element of Detours and being able to explore characters while also having the ability to change up scene length — have a mix of patient and punchy scenes — and also making quick edits if it really goes off the rails.
What's challenging and/or exciting about doing a Detours set with only two people?
LG: For me the biggest challenge is that second scene where we're repeating the first scene but switching up the characters. It's a balancing act between staying present in the first scene and trying to develop a character while also listening to Michael and his character's traits/what he's saying so that I can do my best to replicate it. But it allows both characters to evolve in an effortless way and as that happens other options open up- that's exciting.
MT: The nice thing about Detours in groups is you can take a break and watch or reassess what is going on, so always being in a scene requires a great deal of paying attention and keeping track of what's been done and where we can take things. I always get excited in this format when I see Laura go somewhere in the scene that I can play with as the same character.
How do the two of you like to prepare for a show? How do you like to decompress afterwards?
MT: Atlas Improv has ingrained in us the need to warm up physically, vocally, and mentally. We almost always do exercises to get everyone in that group mindset. With just the two of us we still feel that need to do those warm-ups, but just as important is being able to talk and get on the same level mentally. As for after shows, if we feel good afterwards I think it's good to ride that feeling with everyone together. If we feel like our shows were bad, I think it's almost mandatory to hang out afterwards and remember that we do like each other no matter what. There's nothing worse than stewing alone after a bad set.
LG: Yeah, right now we don't have a pre- or post- show ritual for our two-person team, we just treat it like a regular night of shows at Atlas. Maybe that'll change some day but for now it's working out well for us. Another nice thing that Atlas has ingrained in us is how we handle notes, which I think is unusual and time consuming but also constructive. We sit around in a big circle, we give each other or ourselves the notes we feel need to be made. At the end of notes for each show/set we physically make a hand wipe motion and we move on. Then we go out and drink with our Atlas buds!
As you noted above, you're from Atlas Improv Company in Madison, which just might be our very favorite place to perform. What makes Atlas and its community special?
MT: Atlas is something that took me too long to realize how unique of an opportunity we have. Being in a nice college town, we have a steady supply of people willing to come to shows twice a week. But even before that, the core company that was there when I started (and is there now) are all passionate performers that love putting on shows as much as they love teaching others. Add in the desire to experiment and branch out and I feel like I have a great resource for being able to get better as an improviser.
LG: Atlas is the only dedicated theater for improv in Madison and differs in a lot of ways from most improv scenes in that we have a tight knit company of members who play together every single weekend. We figure out our availability at the beginning of the month and if we say we're available, we're expected to be there. It's a real emphasis on the collaborative aspect of improv, that it's about the community over the individual, which I'm always very proud to be a part of. Our call time is one hour before show time, and we are the ones who clean the space and get it audience ready. It's lovely to have a space that we all feel ownership over, plus 20 best friends that we grow to know and love.
We also happen to think Madison itself is one of the best cities in the world, period. What advice would you give someone visiting there for the first time?
LG: Madison is a fun town! I've lived in Madison since I moved there for college in 2009 so I have the perspective of Madison as the big college town that it is, as well as a more "mature" perspective. The downtown is on an isthmus, so it's sandwiched between two lakes: Lake Monona — where Otis Redding tragically died — and Lake Mendota — where no one famous has died to my knowledge. For a firs-time visitor, I would definitely suggest going in the summer or fall when Madison is at its peak pleasantness. Also, if you stay in the downtown area, you'll be within walking distance of the major attractions: both lakes; the state capitol (which has a free tour several times daily); Capitol Square, which has a bunch of nice restaurants and bars, as well as the infamous Saturday farmers market; and State Street.
MT: Whenever I travel the only thing I ever care about is food, and Madison can provide that in so many ways. I wasn't a fan of beer until I saw the variety they had everywhere. Also, don't be afraid to visit in the winter, the city is great at dealing with even the worst weather.
We love a good improv origin story. How did each of you first find improv? What keeps you at it now that you're both veterans?
MT: I had been looking for a way to break into classes for a long time, and when I moved up here and realized I was so close to Chicago I wanted to take classes. The takeaway I got from my time there was that it doesn't need to be a big name theater in order to learn, and when I found Atlas I immediately connected with their philosophy. I tried auditions a couple of times to join the main company, but more importantly I never stopped learning and watching others. If I could emphasize any part of being a "veteran" that would be my only takeaway: you have to always be ready to grow and get inspired by others.
LG: My origin story is pretty similar, although perhaps more of a winding road to get in the door and actually take a class. Performing was a big part of my childhood but for over five years of my adult life I didn't have any sort of creative outlet. Then I started grad school and hit a breaking point where I needed to do something. So I did some research, found Atlas, signed up for a class, and by the time I did my first class show I was hooked. I auditioned, didn't get into the audition class, and ended up getting in through a live reality show Atlas does every year called The Cut. That was about three years ago, so most days I still feel like a new improviser! I think something I've learned in these few years is that improv isn't a skill that can be totally mastered, though there are many that come close. I find myself going through periods where I feel like I've "figured it out" and then suddenly that way doesn't work anymore, and I need to try something else. Improv forces me to evolve and push myself out of my comfort zone, and that's what keeps me coming back every week.
Finally, we're hoping we can settle this once and for all: Is Essen Haus good?
LG: My feelings about Essen Haus are complicated and intense. It's definitely not good by any traditional standard but I'm partial to a dive bar atmosphere and they definitely deliver in that respect. It is definitely not for the faint of heart, but frankly I'm not interested in spending time with people who are too good to drink in a place with several first hand mouse sightings. Atlas calls it "the place of friendship and love" and honestly I don't care where we go as long as we're together.
MT: My view is that Essen Haus is the ultimate example of "it doesn't matter where you are, it is who you are with." They have big tables and big beers, free peanuts and popcorn, and sometimes, if you're really lucky, you'll see a tiny mouse friend to greet you as you finish your three-dollar cheeseburger.