Join Lauren and Alex on a dark and absurd journey into the unknown. Get Out of My Head is what happens when a 40-something Gen X and a 20-something millennial think like a 14-year-old Gen Z teen!
Lauren Morris, Alex Streu
Winter Park, Fla.
Schedule:
Get Out of My Head! will perform in the 10:00 pm block on Friday, August 16.
***CLICK HERE TO PURCHASE FESTIVAL TICKETS FOR FRIDAY NIGHT.***
Images: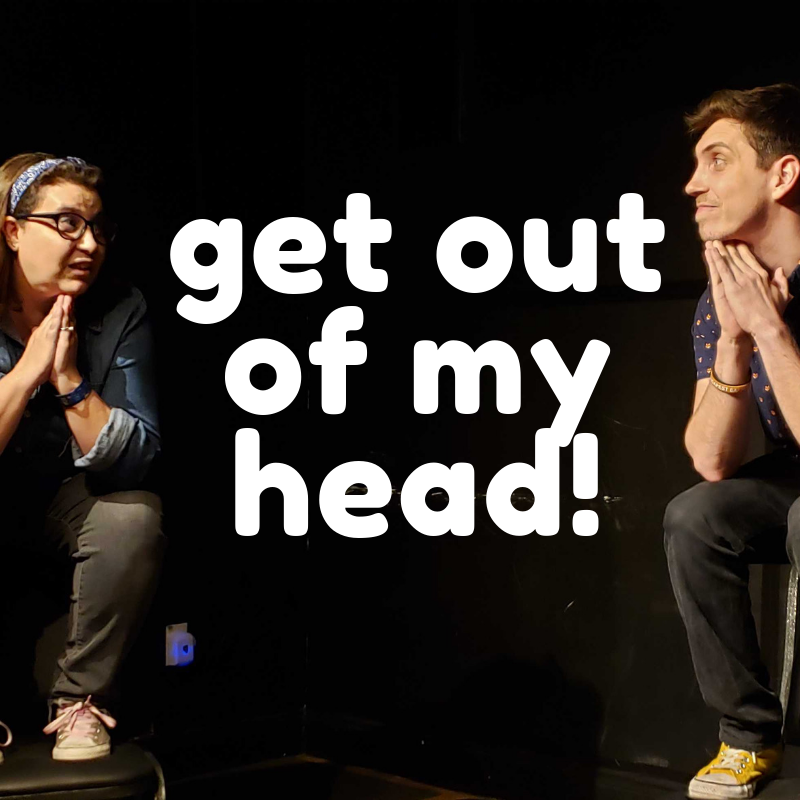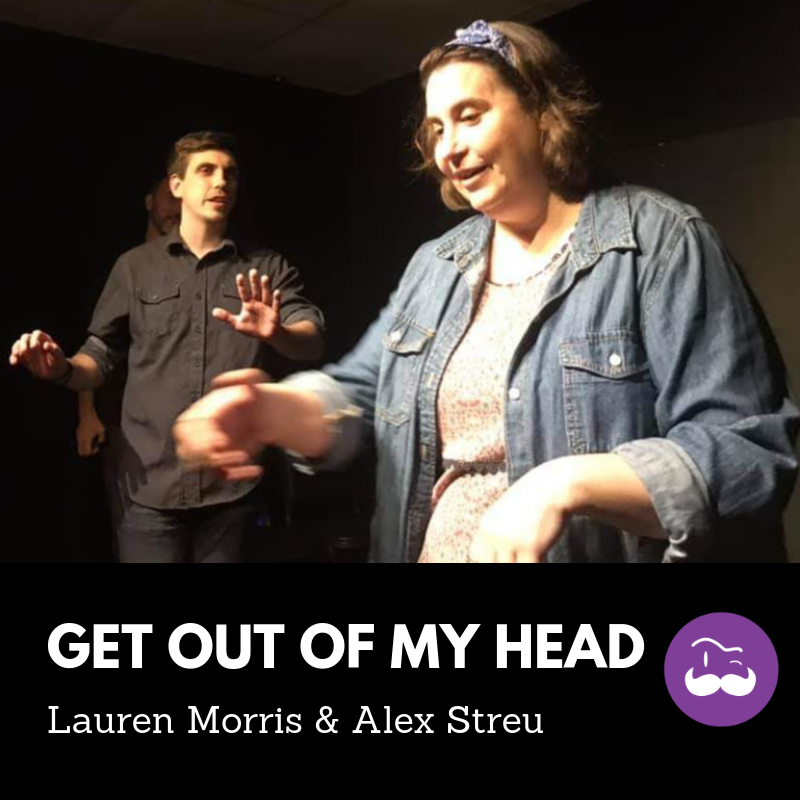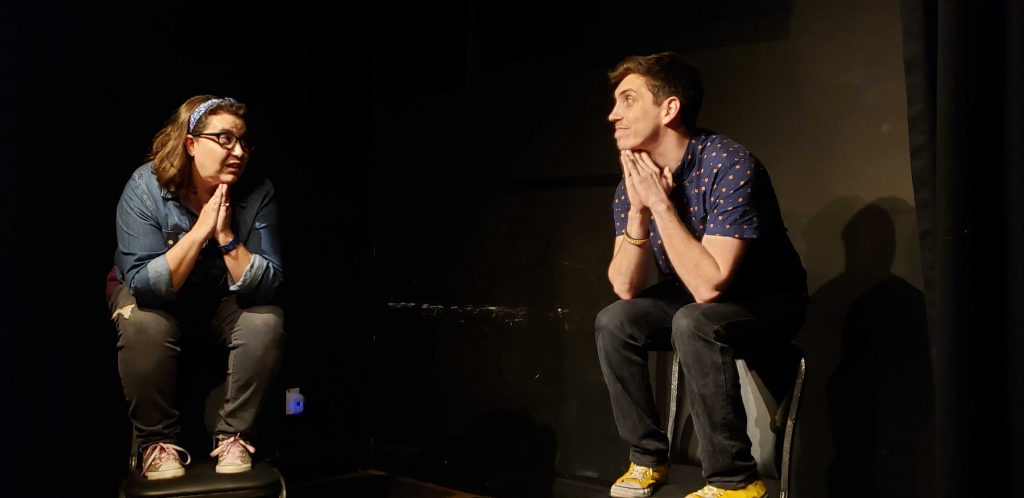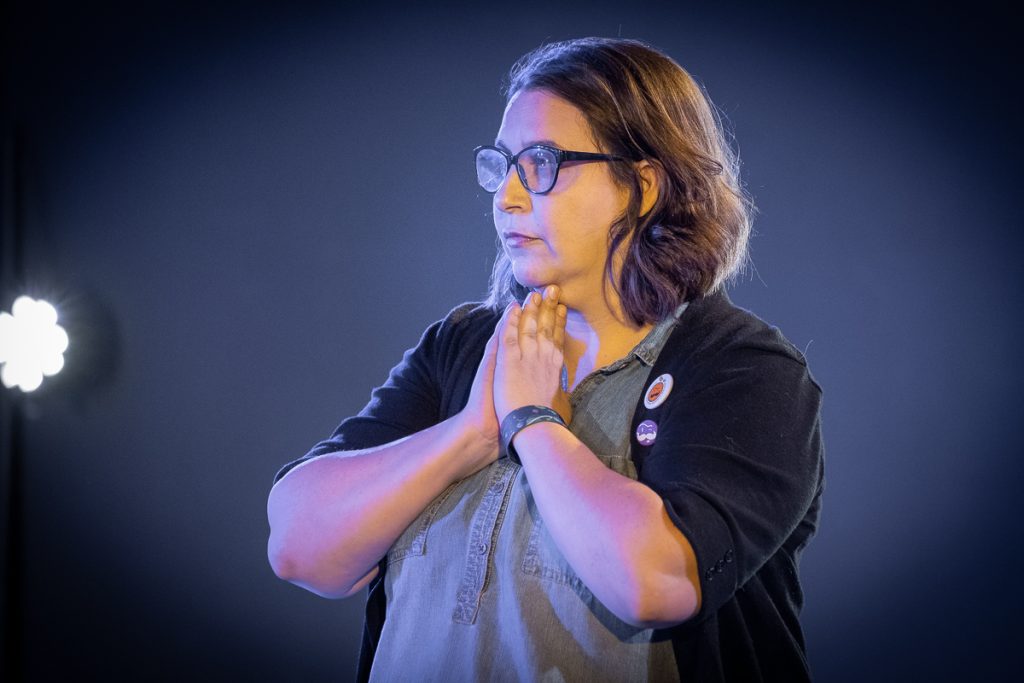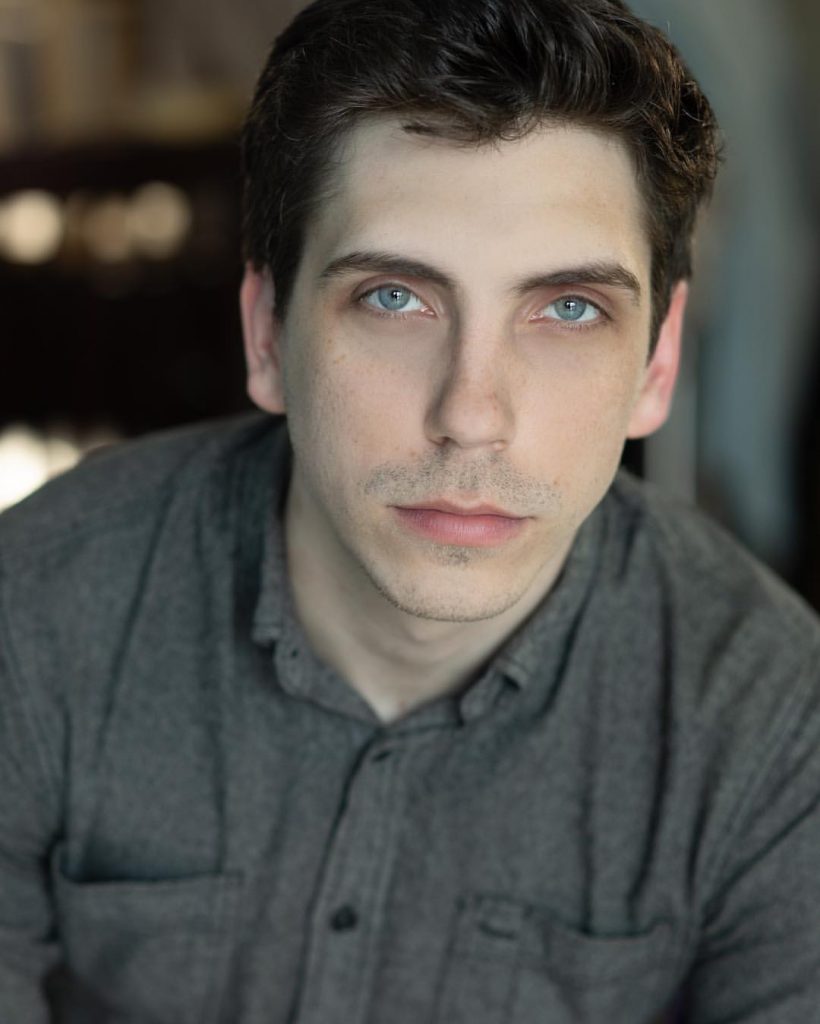 Video:
Workshop:
Authenticity + Vulnerability = Funny
Lauren Morris & Alex Streu
Sat, August 15, 10:00 a.m. – 12:00 p.m.
***Click here to register now for "Authenticity + Vulnerability = Funny" w/ Lauren Morris & Alex Streu.***
Lauren and Alex take to the stage together weekly at AdLib Theatre. They love to connect in authentic and vulnerable ways that lead them to absurd and funny situations. Now they are taking what they love and sharing it with you!
Often students are told to find ways to be authentic and vulnerable and find themselves in super heavy or dramatic scenes when what they really want is to keep the fun and joy that made them fall in love with improv to begin with.
This workshop explores those very concepts while keeping the absurd, silly, and fun! Through a series of exercises and immediate personalized feedback, students will tap in their A and V to find their F. In other words, Authenticity + Vulnerability = Funny!
Interview:
We are excited to have both of you at the festival this year! Tell us about your format. What can audiences expect to see this year?
Lauren Morris: We keep it simple in terms of the format. We get a word and just go into a monoscene. As for what audiences can expect, well typically we explore more absurd and darker topics that impact the human condition and our characters in the moment.
Alex Streu: Our goal is to always find the funny in ridiculousness through the steps of authentic characters and choices. So we can truly find vulnerable moments and concepts while also playing with the limitless capability of improv.
Your show is marvelously efficient. You find the funny quickly, develop stakes and characters concurrently, and keep heightening from there, with no wasted movement or energy. Is this a goal of yours — to trim the fat and get to the point quickly? Or is that just a byproduct of something else that you're striving for?
LM: My improv is all about the relationship between characters and the result is typically a lot less wasted energy. I want the audience to be hooked and engaged from the get-go.
I like to know the point of view up top and then just discover, discover, discover. From our words, character quirks, and environment. Everything has a purpose, intention, and a reason. We are always striving to stay connected and I think that goal also helps what you just described!
AS: Yes, absolutely it is a goal of ours! Personally, I find that while great improv can show in many forms, I believe we have the opportunity to show a moment that matters to these characters. We can't see the true nature of people and characters until we see the stakes that force to them reveal themselves. So the quicker we get there the more time we have to play and discover.
You two have great chemistry. How has that developed since you started improvising together? What are some ways you've found to build trust and a rapport as a duo?
LM: It started with the simple fact that we both want to be the best versions of ourselves and show audiences how improv can change your life in the best way. That simple philosophy means we can trust each other in so many different ways and trust is paramount to what we do.
Early on we found out how similar our styles and aesthetics are on and off stage and that helped propel us forward. Then we made real efforts to strengthen our relationship off stage. Ridiculously long talks about improv (we both take a long way round when we talk shop!), hanging out doing non-improv stuff and supporting one another in other aspects of our personal lives.
Also, knowing that we are both dedicated to the journey and this team, it means we can be completely honest and open with each other about everything and that is the biggest way to have trust. It's learning how one another communicates in real life and honoring that so you can have the deep and meaningful conversations which lead to those funny and amazing moments on stage!
AS: Yeah, our first show was absolute shit! That being said we found something that was unique, at least for me. Not a lot of people want to get weird because they feel it is forced or it's for attention. But here I could feel there was someone else who was weird because their brain was weird. Like Lauren said, once we discovered that fact it became both manual and at times effortless efforts of strengthening the relationship off and on stage. As she said, that means having the hard conversation that you don't want to have because that is what allows us to remain open and honest on the stage so we can share what we do to the best of our abilities [with our audiences].
Your workshop title is also a mathematical equation, which is sort of amazing. Tell us why you believe that authenticity + vulnerability = funny. Why is this equation so important for performers to internalize?
LM: For one each piece is something we both strive for every time we are on stage. The ability to be vulnerable means the performer is willing to let the moment, their partner and the words really have meaning for them. To truly listen and stay open and ready to change. It takes risk and courage and that is very improv.
Authenticity is the honest way you bring your characters to life. Many times people "act" in a way they think the character has to act. The truth is every person has their own lens on the world, their own energy, their own style and that is what they need to bring to their characters and if they are doing that then the character they are playing will react truthfully and not how the improviser thinks a character should respond.
You can be vulnerable and not authentic and vice versa. Typically when that happens you are left with scenes that become very dramatic (when that's not the goal), or leave the audience feeling as if they just experienced something forced and it definitely isn't everyone having fun.
If you are striving for funny you can do it in a way that feels forced or you can do it in a way that is natural and also leaves everyone feeling they had an experience not just watched an improv show. I don't know, I think there is something amazing in that hence why I think all performers should internalize their V and A!
AS: What she said! Also, I believe that comedy itself comes from a place of vulnerability and authenticity. Whether it's a high comedy like Talladega Nights or a stand-up comic's tight five. There have been so many learning moments for myself where I found my funny line was never funny and my honest reaction had a roar of laughter. I think that is all you need to prove that being genuine in moments, especially in a format like ours, is where the source of comedy, at least our comedy, comes from. When you can you understand it in as simple a format as A+V=F, that's done to represent how simple this improv really is and now it's all about making that choice.
Alex, you recently came on board as associate director of AdLib Theatre, the improv theater in Winter Park that Lauren founded and continues to run. Can you both talk about what this new development means to you personally and professionally — and what it will mean for AdLib going forward?
LM: I'm still trying to find the right words to what this all means. Personally, I am so lucky. I get to work with someone on a day to day basis who loves improv and wants to elevate and ensure the future of improv. A person who sees that improv is bigger than just himself and cares about his community. Seriously? This is the person I get to work with? How cool is that?
Professionally it's a ginormous leap for AdLib. It's a signal that we have grown and it's time to expand the circle of influence and push our community to the next level. Creating AdLib has been one of the hardest and most rewarding endeavors I've done. It's humbling and an honor to serve so many people.
Going forward it means AdLib can offer more programming, more artistic opportunities for performers, and raise the quality of our training program. It really is an exciting time in the theater's history.
AS: You know, when I was offered this position and told its duties my first thought was, "Don't I already do this?" Ha Ha Ha. That's because my first and foremost goal, which I even told Lauren when I accepted, is to help the theater grow. I hit a point in my improv journey where I reached a ceiling and craved growth but had nowhere to do so. That's when I found this space that Lauren created which immediately gave me more opportunities than I expected and after watching my first show there, I immediately thought what can I do to help. Personally, this means I get to work with a bunch of people who have these shared goals and get the inside experience of someone who wanted the same thing as me but took the bigger risk to build it and do the groundwork and I get to just be some extra jet fuel, which is so fulfilling.
Professionally, I hope it does all the things that Lauren mentioned, and that is certainly something we both aim to strive for.
Finally, we'll ask you the same thing we've asked some other groups: Why the hell are Disney World tickets so damn expensive? Any viable theories?
LM: Rumor has it that Mickey and his friends have some seriously big gambling debts!
AS: Have you seen their drink prices? They have to pay for them somehow!