As the character "Sweaty Dee", I involve the audience past the initial offering – think of an obnoxious, know-it-all uncle who imposes his own personal TED talk at a family gathering. The fourth wall doesn't exist during this solo improv act. I'm very physical, using whatever makeshift props are immediately on hand – and I sing, answering questions with impromptu rock songs. It's super chaotic fun!

Randy Wood
Seattle, Wash.
Schedule
Sweaty Dee will perform in the 10:00 PM block on Saturday, August 15.
Images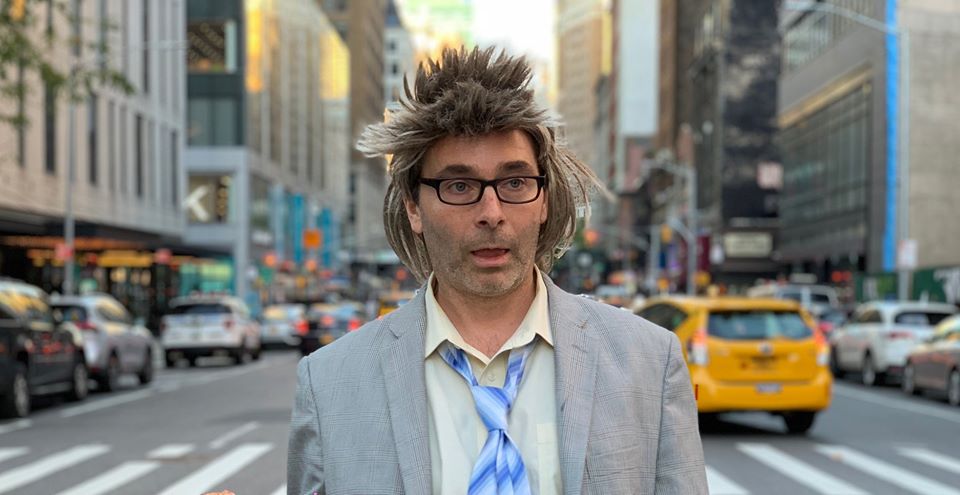 Video
Troupe bio
Randy Wood has been writing, performing, and producing comedy for ten years. In 1995 he moved to Seattle from Ohio to do an internship with Fantagraphics Books in the hopes of pursuing a career as a comic book artist. That didn't pan out, and in 2010 he started doing stand up comedy. He has since trained at Upright Citizens Brigade NYC, Unexpected Productions, Freehold, and Cornish College of the Arts. He produced a monthly comedy variety show called "Spectacular" at The Pocket Theater in Seattle from 2016 to 2019. He has been influenced by comedians such as Neil Hamburger, Robin Williams, and Melissa McCarthy. He performs regularly as the character, "Sweaty Dee", around Seattle and has performed at New York Sketch Fest, SketchFest Seattle, Once Told Tales, and Bumbershoot.